Award-winning NGO PositiveNegatives launch Why Comics?, an exciting new education charity
Why Comics? - Bringing contemporary humanitarian and social issues into the classroom
London, October 25th 2016
–
Why Comics
?, a new innovative charity that provides free educational resources to help teachers bring contemporary social and human rights issues into the classroom, launches today.
Why Comics? 
interactive literary comics based on real-life testimony
allow 14-18 year old students and their teachers to interact with global humanitarian and social issues (such as racism, migration, climate change, conflict, bullying and trafficking).
Why Comics?
  resources are embedded with contextual multimedia (such as maps, news articles and videos). Each educational tool is accompanied by national-curriculum relevant lesson plans. The comics act as a 'hook', building empathy and creating talking points for wider issues whilst humanising the mass statistics we hear in the news. The age-appropriate contextual links allow students and teachers to explore the topics in greater detail, increasing understanding around the various issues. Aimed at students and their teachers, the materials can be used to support the teaching of various subjects, such as English, Art, Personal, Social, Health and Economic (PSHE) education, Citizenship, History, I.T. and Geography.
Why Comics? 
 tackles the gap in available, accessible, age-appropriate educational resources on these vital topics and potential lack of understanding, making them engaging, relevant and interesting.
"We are very excited to launch our new charity which is an accumulation of over four year's hard work and dedication." Said Dr Benjamin Dix, PositiveNegatives Director and Senior Fellow at the School of Oriental and African Studies, University of London.
Why Comics?
encourages and promotes critical and reflective thinking on vital global themes, whilst encouraging learners to make connections between their own lives and the lives of others throughout the world. In this way
Why Comics
? can help combat racism and intolerance in schools. Currently, more than 500 schools in 26 countries have signed up to receive free interactive comics and accompanying lesson plans. This innovative digital project engages, raises awareness and inspires both teachers and pupils on a more personal level than the majority of teaching tools.
Dr Dix concludes, "Teachers have said that 'Why Comics? is such a useful, vital resource' and they have 'never seen their students so engaged'. Their pupils love it too and 'can't wait to see more'. Building empathy is now more important than ever. It's easier to be scared of people than to understand them. These vital human stories are missing in schools and Why Comics? can take them there".
Why Comics?
resources have a powerful impact, because they're real stories. No matter your ethnicity, age, gender or literary levels, people can understand and empathise with the human stories. The
Why Comics? crowdfunding campaign
is being launched today to raise money to create a new interactive website where students and teachers can explore these vital issues.
***
Find out you can support Why Comics? here, or email comics@positivenegatives.org. Thank you.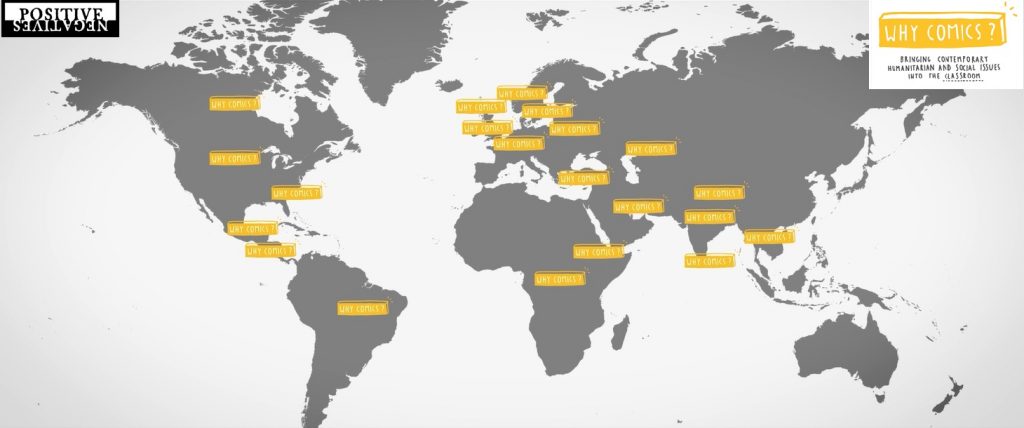 About PositiveNegatives
The award-winning non-profit 
PositiveNegatives
 has been producing literary comics about contemporary social and human rights issues for over 4 years. We combine ethnographic research with illustration and photography, adapting personal testimonies into art, advocacy and education materials. PositiveNegatives has worked extensively with a range of organisations such as 
The Guardian
, 
Open Society Foundations (OSF)
, 
BBC
, 
The Nobel Peace Centre
, 
Overseas Development Institute (ODI)
 and the 
United Nations (UN),
 and with leading academic institutions such as; Harvard South Asia Centre, School of Oriental and African Studies (SOAS) and University of Sussex.