Suggested age: A Level / Key Stage 5 and a seminar for university students
Subject: Geography
These resources are built around our animation Outside the Box: Exploring Islam on University Campuses in the UK, which brings to life how Islam is understood and experienced on UK university campuses, and research findings from Re/presenting Islam on Campus, a SOAS-led research project.
You can find the educational resources here:
A level Lesson Guidance
This A level lesson was developed for Geography specifically, under the Changing Places Unit.
Key concepts covered in this lesson, linking with curriculum requirements in A level Geography specifications include: meaning and representation, understanding place, places studies, place variation, diverse living spaces, identity, culture and society.
The lesson is approximately 1 hour, but can be built out and extended upon to suit multiple lessons covering its key concepts.

University Seminar Guidance
The university seminar was developed as a prompt to give educators at the university level a suggested lesson or seminar structured around the themes in the Outside the Box animation and the Re/presenting Islam on Campus report findings. We expect that educators will tailor key concepts, suggested readings, and the activities in the lesson to suit their teaching needs. We've created the seminar and the follow up activities with suggested extensions for this reason.
The university seminar was created for learning about Geography, but can be used and adapted to suit lessons, seminars and tutorials in anthropology, sociology, religious studies, media studies, politics and more.
The seminar covers the following key concepts:

Place, Place-making & Scale

Identity & Belonging

Qualitative research methods (Ethnography & Autoethnography)

Islamophobia
We'd love to hear any feedback on how you've made use of this prompt in your university teaching, please contact us.

Explore the learning resources:
Common Guidance
As the content covered by these resources could be considered challenging or sensitive, we recommend that all educators take a few minutes to read through the following 'Creating Safe Spaces' document before using any of the activities with learners.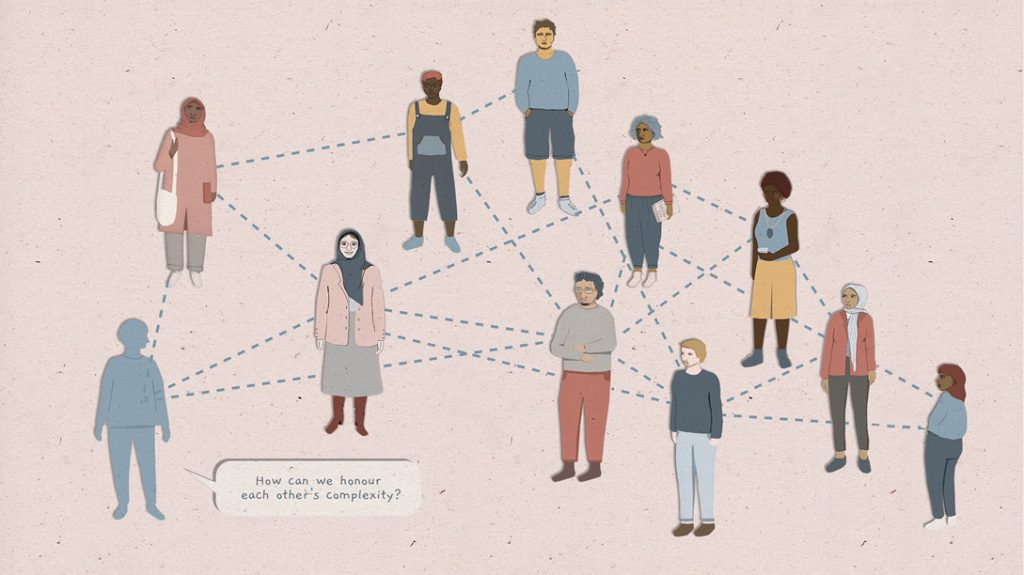 For more free educational activities bringing to life social, humanitarian and other contemporary issues, please visit PositiveNegatives Learning.
PositiveNegatives is a not-for profit collaborating with educators, artists and researchers creating true stories, drawn from life to inspire empathy, critical thinking and creativity. Those stories, and the educational resources are freely available, and published under Creative Commons licenses.
Please contact us with any feedback, suggestions or for more information.
Learning resources published under Creative Commons Share Alike license.
Funded by: AHRC & ESRC. Illustrations by Sabba Khan.