Outside the Box brings to life how Islam is understood and experienced on UK university campuses.
This animation asks how we can ensure UK universities remain forums for openly debating complex issues, and become spaces where everyone has a right to belong.
The animation, and accompanying comic, was co-created with:
SOAS-led research project,

Re/presenting Islam on Campus

UK-based artist,

Sabba Khan

, a second generation Azad Kashmiri Muslim multidisciplinary artist – whose work spans comics, animation, graphic novels, illustration and architecture

A group of Muslim scholars with deep contextual knowledge and lived experience of this topic.

Highlights
Featured in the Guardian – and aimed at accompanying this SOAS research report.
Sent to all MP's as a hook into the research data which highlights the ways in which counter terror policies reinforce negative views about Muslims and Islam – and to suggest improvements going forward.
Our co-creators said…
"Outside the Box is a multi-faceted snapshot of how religion plays out in university spaces. It's the beginnings of a discussion that needs to be had, not only in Higher education settings, but in other spheres of life too. This animation helps to show just how important it is in understanding the lived experiences of people and how they are affected by sweeping policies that play out in institutional settings. The creative direction for the animation draws from a range of disciplines; architecture, space and storytelling are all brought together in a nesting doll style structure that acts both as metaphor as well as a device that illustrates the complex way our systems and structures inform our lived experiences." – Sabba Khan, Illustrator & Creative Director
"I was the Postdoctoral Researcher on the Re/presenting Islam on Campus research project. We conducted interviews and focus groups at four universities and two Muslim colleges in the UK, interviewing Muslim and non-Muslim students and staff. Then we analysed the data and wrote it up for publication. It was exciting to work on transforming our research into an animation with PositiveNegatives, the innovative artist Sabba Khan, the co-creation team and the Islam on Campus PI Professor Alison Scott-Baumann. The result is a beautiful animation that grapples with complex issues of Muslim identities and representation in the academy. I hope Muslim students feel that their narratives are represented. The animation will allow non-Muslims to gain valuable insights and hopefully inspire those with limited knowledge of Islam to learn more." – Dr Aisha Phoenix, Posdoctoral Researcher on Re/presenting Islam on Campus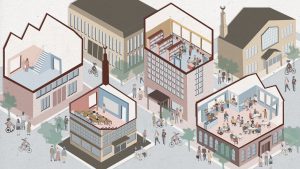 "As a Muslim on more than one UK campus, and a student of Islamic studies, I often felt that there was a contradiction with the way Islam was being taught and presented, and the variety of Muslim experience."
"I was invited to help co-create this animation as a participant – it was really quite an interesting experience because we were involved from the very early stages of brainstorming, and storyboarding and even how the characters could dress – to the point of even doing a voiceover for the animation. I found it very valuable as someone who's not only been a researcher but also the subject of research and a participant in research on a number of occasions – it's quite rare for participants to be invited to shape and present the research findings of the project, so in that sense it was unique." – Dr Alyaa Ebbiary, Co-creator
"Outside the Box powerfully and succinctly captures some of the challenges that come with being Muslim in Britain today. It impresses how myopic and misjudged media narratives, counterterrorism initiatives, and opinions in British society function to render Muslims social pariahs at every strata of society, especially women of colour. It also stresses how deeply enmeshed these concerns are with wider issues of how reflective and representative of its diverse society, and how free and fair a democracy, Britain is today. Its call for conviviality and equality is urgent." – Hasan Pandor, Co-creator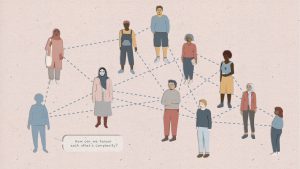 About the artist, Sabba Khan
Sabba Khan is an architectural designer & graphic novelist. Her work often focus upon first world city life as a second generation Azad Kashmiri Muslim migrant, exploring belonging, memory and identity. Using a hybrid of text and visual commentary, her work sits at a productive intersection of visual storytelling, poetry, and spatial form. Her forthcoming graphic novel is due for release in 2021 by Myriad Editions and is funded by Jerwood Arts.
Outside the Box was animated by Maisy Summer.
Educational Resources
We are currently producing learning resources to bring these topics into classrooms, which will be freely available online in the coming months on PosNeg Learning.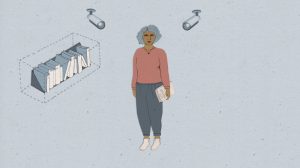 Published under a Creative Commons license. This resource can be freely downloaded, printed and used for any not-for-profit purpose as long as PositiveNegatives and the artist are attributed, and the artwork is not edited.
In collaboration with: SOAS University of London, Coventry University, Durham University and Lancaster University.
This project was generously funded by: