Myanmar – Drugs & (dis)order
As part of the Drugs & (dis)order research consortium, we collaborated with researchers and artists in Kachin and Shan state to illustrate stories about drugs and conflict in the borderlands of Myanmar. Our work in Myanmar has focused on drug consumption.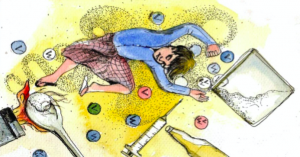 Check out our collaborations with local artists in Shan State and Kachin State Myanmar, whose comics shed light on the impact of drug consumption in Myanmar's borderland regions.
Illustrations by Cecilia Ja Seng and Sai Kham Loen.