COVID Chronicles
The effects of the COVID-19 pandemic have been felt by individuals and families all over the world. For migrant communities, the emotional and financial strains it left were acutely felt due to the vulnerability of those left behind, and the stresses and frustrations of the migrants themselves.
In this comic and animation, we have worked directly with interviews conducted by the MIDEQ research teams in Nepal and Malaysia and adapted their findings into a story about a Nepalese wife, Aasha, whose husband migrates to Malaysia for work, just before COVID-19 struck. By positioning the story from the point of view of Aasha, looking after her two young children and her elderly parents in-law in rural Nepal, we explore an often overlooked story of a wife and mother at home after her husband migrates. Doing so illustrates the emotional and financial challenges migrant families face, amplified through the pandemic.
Working in close collaboration with the MIDEQ Nepal and Malaysia teams, we commissioned Nepalese artist, Neeti Shrestha, to illustrate the comic. Neeti beautifully illustrated every scene and due to her intimate knowledge of Nepal, she managed to weave in cultural nuance in every scene, from clothes to food and even body language. We relied on field photographs and journalism to gather reference images for the mostly unseen experience of migrant workers in Malaysia. Neeti skillfully imagined the lived experiences of factory work and dormitory living conditions.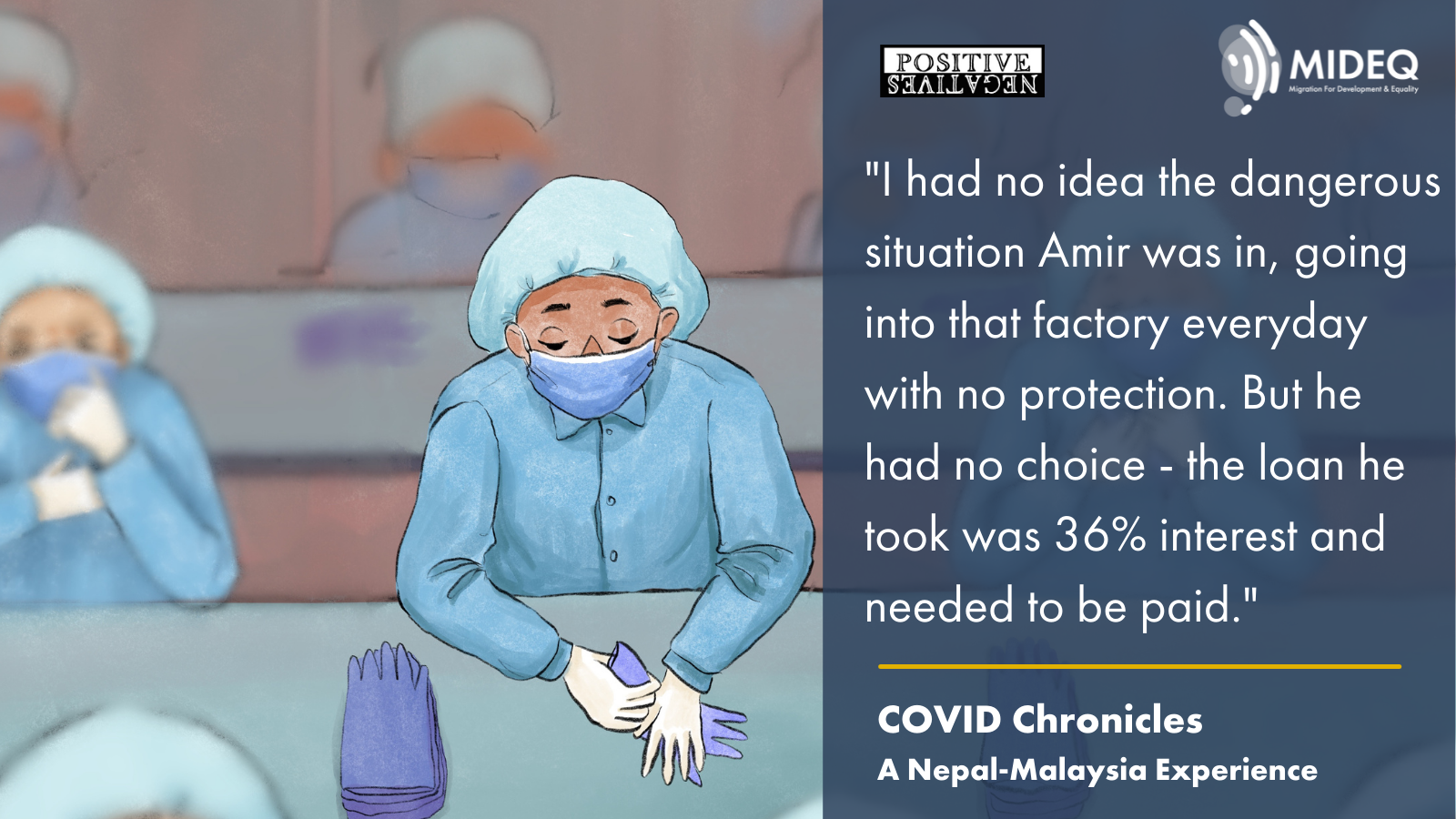 We plan for this to be the first of a trilogy of Covid Chronicles that highlight the effects of the pandemic across other MIDEQ corridors and give a voice to some untold stories that communities have faced throughout the pandemic.
Commenting on the animation, Dr Seng Guan Yeoh, Co-Investigator in MIDEQ's Nepal-Malaysia corridor said:
"This comic bears witness to the human security uncertainties and public health dangers faced by migrant workers in Malaysia in the time of Covid-19".
Dr Anita Ghimire, Co-Investigator in MIDEQ's Nepal-Malaysia corridor noted:
"The comic depicts the vulnerabilities that Nepali migrant workers face in countries of destination and the risks they are compelled to take for an income."
Dr Benjamin Worku-Dix, Founding Director, PositiveNegatives said:
"I'm so pleased we had the opportunity to tell this often untold story of migration, of those left behind, managing the mundane family life and the struggles, isolation and emotions that are often experienced by migrant families."